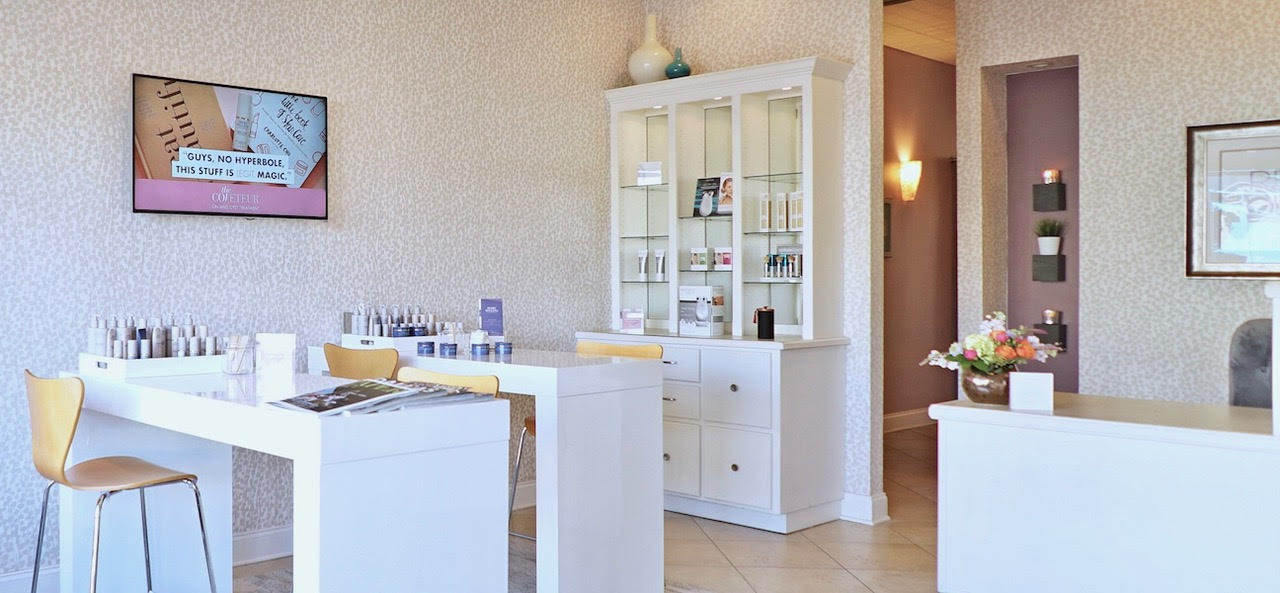 PLANO, TX
This exclusive skin care spa located in Plano has four treatment rooms and a team of skilled estheticians dedicated to giving you solutions for your top skin concerns.
ADDRESS

4025 Preston Road, Suite 606
Plano, TX 75093

HOURS

Mon, Wed, Fri, Sat: 9am-5pm

Tues, Thurs: 9am-9pm

Sunday: closed

CONTACT

Phone: 972-378-6655
Services
Our estheticians and skin care experts are formally trained in dozens of specialized services and treatments. Explore the selected menu of services we offer at our Plano salon below, or download the complete menu of services that our skin care experts are trained in. 
If you are interested in purchasing a gift card for spa services, please call the spa directly. Note that gift cards purchased online are NOT redeemable for spa services.
MEDICAL SPA TREATMENTS

NEW! Bio Brasion Treatments $170
Featuring both wet and dry technology, Bio Brasion uses a crystal-free, low-suction abrasion system along with chemical peel exfoliation to reveal brighter, clearer and smoother skin. No downtime and each procedure works progressively, delivering skin correction with additional treatments. Schedule an appointment online

See Bio Brasion before and after photo on our blog.
WATCH VIDEO of Renée demonstrating Bio Brasion.

Series of 6 for $960, Series of 8 for $1200, Series of 10 for $1400

Five Bio Brasion Treatments Available:

Bio Brasion Clearing Treatment
For blemished skin, this uses a crystal-free, low-suction abrasion system to exfoliate, followed by a potent salicylic acid peel to help remove acne-causing bacteria. Breakouts will be reduced with fewer clogged pores. 30 mins
Bio Brasion Brightening Treatment
For sun-damaged skin, this uses a crystal-free, low-suction abrasion system to exfoliate, followed by a vitamin C peel to lift discoloration, and reveal a brilliant clarity. 30 mins
Bio Brasion Sensitive Treatment
For red, sensitive skin, this uses a crystal-free, low-suction abrasion system to exfoliate, followed by a gentle lactic acid peel to promote smoother skin without irritation. 30 mins
Bio Brasion Anti-Aging Treatment
For age prevention, this uses a crystal-free, low-suction abrasion system to exfoliate, followed by a firming peptide and acid peel to keep skin looking smooth and youthful. 30 mins
Bio Brasion Hydrating Treatment
For dry skin, this uses a crystal-free, low-suction abrasion system to exfoliate dryness, followed by a blend of glycolic and lactic acid to improve skin's elasticity and suppleness. 30 mins
Correcting Treatment $50 (up to 5 mins) $100 (up to 15 mins) $150 (up to 30 mins)
Cauterization for removal of skin tags, benign growths and surface capillary removal. Only available with Grainne, Lead Esthetican.
Cranberry Brasion Treatment $160
This treatment is identical to our signature Cranberry Brasion Facial, but without the extractions, face, neck and shoulder massage and the heated mitts. 45 mins 
Dermaplaning Treatment $160
A non-invasive method to exfoliate and resurface the skin, with the added benefit of fine hair removal and no down time. Read more about how Dermaplaning works on our blog. 50 mins 
Dermaplaning Treatment with Peel $195
A non-invasive method to exfoliate and resurface the skin combined with a 20% acid peel for extra results. Read more about how Dermaplaning works on our blog. 60 mins 
'Glow On The Go' Treatment $39
In a quick 15 minute appointment, you'll receive an exfoliating treatment to smooth lines, remove dryness, even skin tone and minimize the appearance of fine lines and large pores—without any redness or irritation. Skin will be glowing and radiant for all your special occasions. 15 mins 
Acne Repair Program $636
This innovative approach to acne repair uses the most advanced peels and skin purifying treatments available and is performed once a week for six weeks to reveal clearer, smoother and more even-toned skin with a dramatic reduction of breakouts. 30 mins per treatment
Skin Repair Program $636
This innovative approach to sun damage repair uses the most advanced peels and collagen-boosting treatments available and is performed once a week for six weeks to reduce the appearance of fine lines and wrinkles, lift discoloration and reveal an overall healthier, younger-looking appearance. 30 mins per treatment
Triple Peel $150
Exfoliate the skin three ways using ultrasonic vibration, an acid/enzyme chemical peel and vitamin A peel for the ultimate in skin smoothing and anti-aging. We often combine this service with a custom mini facial ($60) to enhance the results. Triple Peel alone, 30 mins. With custom mini facial, 60 mins

Schedule all appointments online 
ADD-ON TREATMENTS

Antioxidant Lip Treatment $30
This gentle, effective treatment removes dead cell layers to reveal smooth, youthful, and glowing skin.
Bio Visage Lifting Treatment $100
This remarkable French skin rejuvenation treatment, using low level electrical impulses, is considered a non-surgical face lift that gives almost instant, visible results to tighten, tone and firm aging skin. Results can be seen with just one treatment. 30 mins Series of 8 for $720, Series of 12 for $960, Series of 18 for $1260
Eye Zone Treatment $35
This advanced treatment targets the delicate skin around the eyes. A pressure-point massage is combined with cooling eye globes and a freeze-dried collagen eye mask, leaving lines softened and skin feeling refreshed.
Neck Facial $40
Give your neck the attention it needs with this skin-smoothing and hydrating treatment exclusively for the neck and chest.
Oxygen / Vitamin Spray $40
A mist of pure cooling oxygen gas along with 87 different vitamins, enzymes and amino acids will improve the skin's health at the cellular level of the skin. Can be used in place of a finishing mask in any of our facials.
Smoothing Hand Treatment $35
Give your hands the attention they need with this anti-aging treatment. A double peel works to dissolve and polish away dry skin cells and a nourishing cream gives the hands the moisture they crave.
CONSULTATIONS

My Skin Prescription with an esthetician, FREE with $100 purchase
Get personalized skin coaching from an esthetician with My Skin Prescription. Featured in The New York Times, My Skin Prescription is a six-step consultation to help you learn about your unique skin type and how to care for it. Beyond your skin assessment, the consultation also includes nutrition advice, product recommendations from the Renée Rouleau line and more. 
Includes: FREE consultation when you purchase $100 in skin care products at the time of your appointment.
Time: 45 mins. Download this form, fill out and bring to your appointment
Location: Renée Rouleau Skin Care Spa in Plano (address and map above).
Time Zone: CST (Central Standard Time)
Available: In English or Spanish
Schedule an appointment online now. (When scheduling, select 'wellness')

What's Included
Each My Skin Prescription is comprised of the following steps and services:
STEP 1: What are your top skin concerns?
My Skin Prescription begins with a Q&A discussion of your specific goals and concerns. Through a series of comprehensive questions, responses given provide insight into individual skin types, needs and deficiencies.
STEP 2: What do we see in your skin?
See 3D photos of your skin using our exclusive Skin Diagnosis Camera to measure past sun exposure, pore size, sebum quantity, moisture content and cellular buildup to get an overall health and condition of your skin.
STEP 3: How do you feed your skin?
Your esthetician will review nutritional recommendations prepared exclusively for your skin type provided by Registered Dietitian, Keri Gans.
STEP 4: What's in your cabinet?
Bring your current skin care products to your video or in person appointment for an unbiased evaluation. Through our Cosmetic Donation Program, any products that you choose to no longer use, Renée Rouleau Skin Care will gladly donate them to women in need at The Family Place. Read: How To Donate Your Gently Used Beauty Products
STEP 5: What's your sunscreen IQ?
Since sunscreen is the #1 best anti-aging product and must be worn every day, you'll receive a sunscreen tutorial and answers to frequently asked SPF questions.
STEP 6: What's your skin prescription?
Your esthetician will choose your skin type, provide a treatment plan addressing your skin issues, concerns and goals, along with product suggestions from the Renée Rouleau line to reveal healthy, glowing and beautiful skin for a lifetime.
ALSO INCLUDES:
Regularly scheduled emails with personalized skin tips, a "No-Picking" skin contract for those who need no skin-picking accountability, and online educational resource and support. Purchase a My Skin Prescription gift certificate now.
SPA POLICY AND PROCEDURES

Appointments
Your scheduled appointment is reserved exclusively for you. A credit card number is required to secure all scheduled appointments.
Plano Spa Arrival
Please arrive no later than 10 minutes prior to your scheduled appointment. This time allows for a stress-free check-in. We do require that all new clients complete our client forms prior to treatment. Download our new client form.
Cell Phones
We kindly ask that you turn off your mobile phone upon arrival. This is your time to relax and enjoy!
Late Arrivals
Our scheduling is designed to permit the correct amount of time to complete your service. A late arrival will deprive you of your full treatment time. In fairness to all of our clients, your treatment time must end on time so that our scheduling system is effective. If you are more than 20+ minutes late for your scheduled treatment, you will be considered a "no-show" and charged in full for your specified appointment or $100 for all non-specified appointments.
Cancellations
In the event you must cancel your appointment, we do request a 24 -hour notice in order to avoid cancelation fees. We will always do our best to avoid charging for cancellations, but please keep in mind our service providers are by appointment only. Appointments canceled with less than 24 hours notice will be billed the full appointment amount, unless we are able to fill the appointment.
No-Shows
A no-show fee of $100 will be applied to all non-specified appointments that are not cancelled and unfulfilled. Specified appointments will be charged the full amount.
Gratuities
Gratuities are always appreciated and at your discretion. They are not included in any service.
Valuables
We are not responsible for lost or stolen items and encourage you to leave valuables at home.
Renée Rouleau Skin Care reserves the right to refuse services at our discretion.
Ready to get started?
Schedule an appointment online for an appointment at our Plano spa now. For first time visitors, get a jumpstart by filling out this form, and bringing it along with you to your appointment.
---
 Not located in the Plano area? My Skin Prescription consultations are also available virtually via Skype™, Apple FaceTime®, or over the phone. Read about our virtual consultations.