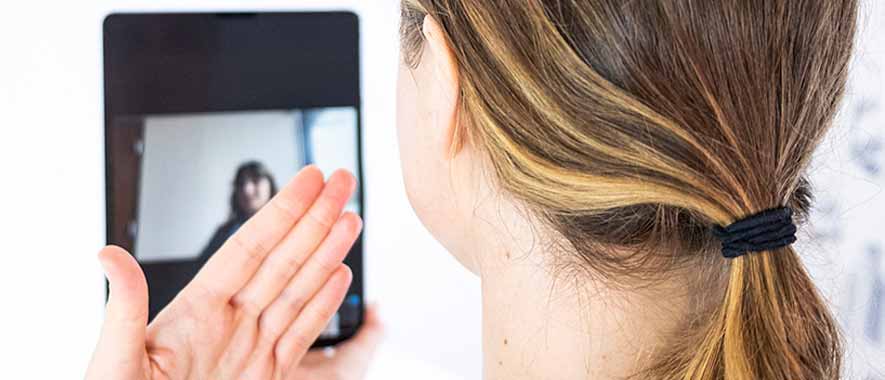 Personalized Skincare Consultations
In need of expert skincare advice? We've got your back. Get personalized skin coaching from a Renée Rouleau esthetician through MySkinRx virtual consultations.
Each one of our consultations is customized by our signature 9 Skin Types. Start with a personalized skin assessment, during which you'll learn all about your unique skin type and how to care for it. Beyond your skin assessment, you'll receive expert advice, product recommendations from the Renée Rouleau line, and more.
We highly recommend that anyone use this service, but especially if you are:
New to Renée Rouleau Skin Care
Building a skincare routine or overhauling an existing one
Have specialty concerns such as cystic acne
Through MySkinRx virtual consultations, you'll be well on your way to healthy, glowing skin. Welcome to the #RenéeRouleauGLOW.
SCHEDULE YOUR CONSULTATION TODAY
Meet Your Esthetician
Lexi Ramos is a licensed esthetician who joined the Renée Rouleau Skin Care team in November of 2021.
She earned her esthetics license from the Tri-State Cosmetology School in El Paso, Texas, as well as a certificate in advanced acne from the Texas Laser and Aesthetics Training Academy.
Her role in the company includes content creation and research & development, but her main focus is you! Lexi answers skincare questions over chat, email, and My Skin Rx virtual consultations.
What to Expect
During a MySkinRx, your esthetician will cover the following with you:
1: What are your top skin concerns?
MySkinRx virtual consultations begin with a Q&A to discuss your skin. Through a series of comprehensive questions, we gain insight into your individual needs, goals, and concerns.
2. What do we see in your skin?
The discussion of your top skin concerns, paired with what we can see via Zoom or FaceTime, as well as any photos you choose to provide with your intake form, helps us determine your skin type and its needs. 
3. What's in your skincare routine?
Bring your current skincare products to your virtual appointment for an unbiased evaluation of your routine.
4. What's your skin prescription?
Complete your purchase with your Renée Rouleau esthetician who will follow up with a customized treatment plan based on your skin type, as well as recommended reading and a shopping list of products you may want to try in the future.
CONSULTATION DETAILS
Consultations are available in 15 minute or 30 minute increments.  We recommend 15 minute consultations for existing customers looking for product and routine recommendations with the existing Renée Rouleau products. We recommend 30 minute consultations if you are new to Renée Rouleau or are experiencing significant changes to your skin. Appointments are set in Central Standard Time.
FOR A LIMITED TIME ALL CONSULTATIONS ARE FREE.  
Schedule your consultation online (please add your Apple FaceTime ID or phone number in the notes section so we can contact you at the time of your appointment. For Zoom, we'll send you a link prior to your appointment). Alternatively, you can call 888-211-7560 during business hours.
Please be sure to fill out the intake form before your consultation. This will help your Renée Rouleau esthetician understand your specific skin goals and concerns as well as prepare personalized advice and product recommendations. You will receive your intake form via email after booking your appointment.
FAQ'S
How do I call in for my appointment?

-For FaceTime, we will reach out to you via the info you provided. If you signed up for a Zoom consultation, we'll send you a link.
Should I remove my makeup for my appointment?

-We recommend going makeup-free so we can get the best possible view of your skin.
Will you really be able to see my skin over Zoom/FaceTime?

-Using a webcam in a well-lit room will help us see some details of your skin. However, the discussion is what really drives our decision-making
What if one of the products isn't a fit for my skin?

-Though we don't offer refunds, you can return any product within 45 days with a receipt for a shopping credit to use the next time you shop with us.
How will I know what to do with the products I ordered?

-At the end of your consultation, you'll receive follow-up information that includes step-by-step instructions with tips and suggested blog post reading!
What if I already bought my products?

-Each consultation is designed to help you select the best products for your skin type and reconfigure your routine, which is why we're unable to offer complimentary consultations for past purchases.
What happens if I can't make my appointment?

-In the event you need to cancel your appointment, we request a 24-hour notice. If you miss your appointment, it will be considered a "no show" and the appointment time will be forfeited. In this case, we will NOT be able to refund your $100 booking fee. 
Referral Program
We are now offering a referral program for past consultation customers! If you've already had a virtual consultation and would like to refer a friend, ask them to mention your name during their consultation. You will receive an email containing a $25 gift card once their appointment has been complete and with a purchase.

*This offer is only applicable to customers who have already had a virtual consultation. If you have not yet completed a virtual consultation, and you refer someone to us, you will not qualify for the referral program.