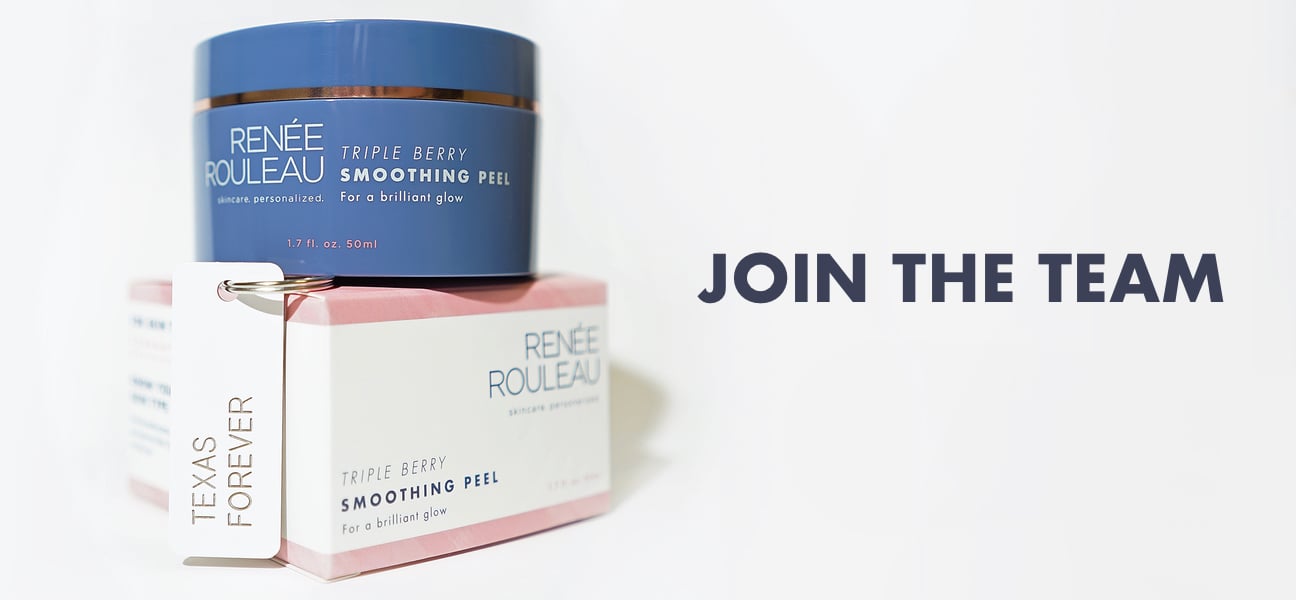 Careers
Hello! Here's some basic information about Renée Rouleau Skin Care that you might enjoy knowing. We have been in business for 21 years (since 1996!) with continued growth so we have a great track record of job stability.
We hire new members to our team based on our five core values. 1. Wants to learn and grow. 2. Team player. 3. Trustworthy. 4. Understands the value of our reputation. 5. Puts customers first.  

We offer a friendly, supportive work environment and value long term employment. We require a solid work ethic but we like having fun, too. Life's too short not to enjoy coming to work each day, don't you think? If this sounds like a place for you, please apply. We look forward to your application. 

One Position Currently Available: 
Part Time Front Desk Concierge in Plano, Texas
Renée Rouleau Skin Care located in Plano, Texas is now accepting resumes for a part-time concierge to work in of our exclusive, upscale spa. 
Responsibilities Include: A variety of tasks including inventory management, date entry, scheduling, purchasing, answering phones, greeting clients and assisting with retail sales. 
Availability: Evenings (every Tuesday and Thursday from 5-9 pm) and two Saturdays a month (8:30 am - 5:30 pm).
Must Be: A good problem solver, customer service oriented, energetic, consistent, reliable, motivated, possess the ability to multi-task and be computer-oriented. Since this position is in the beauty industry, having a professional and stylish appearance is a must. Passionate about skin care and previous industry experience is a plus. 
Experience: High school diploma or equivalent certificate.
Benefits Include: We offer generous pay, discount on products and free facial treatments, as well as a friendly and supportive work environment. 
Email your resume to Jobs@ReneeRouleau.com or mail it to our Plano location at 4025 Preston Road, Ste. 606, Plano, TX 75093. In the email or on your resume, please let us know your ideal work schedule. After reviewing all applicants, we will contact you if you are selected for an interview. For out of state applicants, the first interview will be conducted via Skype. We do require new hires to undergo a thorough background check and drug testing. 
***IMPORTANT! Mandatory Personality Survey: In order for us to consider you for this position, our quick survey MUST be taken after you submit your resume. Once you email us, you will receive an auto reply with a link to the survey. (If it doesn't appear right away in your inbox, check your spam file or email us to re-send it.) This 10-minute survey is to help us better determine if our company is a good fit for you. Upon completion and careful review of your resume, we will contact you if you are chosen for an interview. We look forward to hearing from you.
Renée Rouleau, Inc. is an equal opportunity employer and prides itself in offering a positive, supportive and friendly work environment with competitive compensation and benefits.
Thank you for your interest and we look forward to hearing from you!