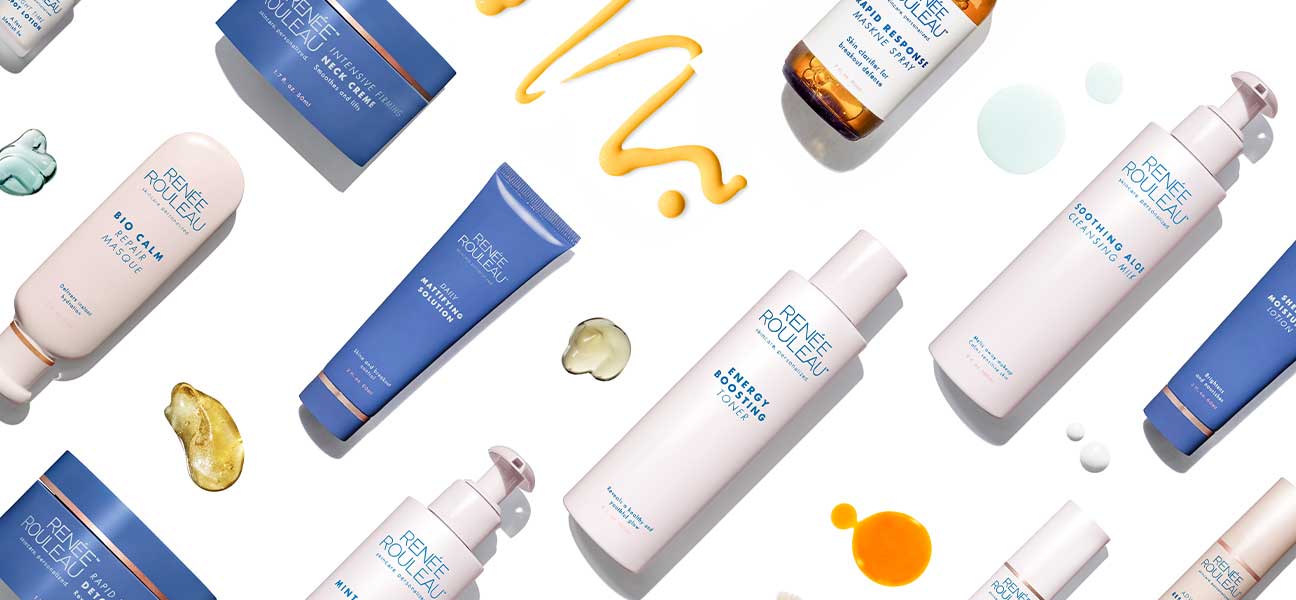 About the Renée Rouleau Products
From the very beginning, Renée recognized that every person's skin is unique; however, the beauty industry mostly relied on a one-size-fits-all approach to skin care. Product lines were traditionally catered to very generic categories of skin - dry, normal and oily. So Renée began formulating her own exclusive products based on nine skin types to ensure her clients achieved the results they desired. Celebrity users of the line include Sofia Vergara, Demi Lovato and Lili Reinhart.
About Us
We know there is more to skin than dry, normal and oily. That's why we've created 55 products for nine skin types to give your skin the best results. Take our Skin Type Quiz.
We combine the best of nature and the best of science to give you healthy, glowing skin, without being harsh and irritating. Nature offers us a slow and steady course that works gently with the skin, while science offers more advanced, biologically active ingredients that are required as we age.
We know ingredients. We avoid the use of irritants and harmful ingredients to keep your skin healthy and balanced.
We know skin. We're not just sales people, but licensed estheticians and true experts who work with the skin every day in our skin care spas and truly understand its function. (Our blog shares all of our best knowledge to help you learn how best to care for your skin.)
We never, ever test our products on animals - and never will.
We welcome your skin care questions. Email us. We're the experts and love to share our knowledge with you.
We're honest, smart, funny, hardworking people.
We believe you are, too.
"Renée Rouleau has a cult following, and it's no secret why: her skin care line works wonders."

- ELLE MAGAZINE
What We Use
Lightweight, non-pore clogging formulas
Cold-pressed, herbal plant extracts & essential oils
High concentration of active ingredients at effective levels
Pure, cold processed, plant based carrier oils
Special delivery vehicles (to enhance penetration and absorption)
Cruelty-free ingredients (Products tested on humans, not animals)
Simple packaging (You pay for what's inside the bottle, not unnecessary boxes)
What We Avoid
Mineral Oil & Petrolatum (pore-clogging)
SD Alcohol 40 and Denatured Alcohol (the "bad" alcohols commonly found in toners that are extremely drying)
Sodium or Ammonium Laureth/Lauryl Sulfate (drying and irritating to the barrier of the skin)
Isopropyl Myristate & Isopropyl Palmitate (may cause blackheads)
Parabens (avoided in most of our skin care products. If it's paraben-free, it will be indicated in the product description)
Synthetic dyes (can be a skin irritant)
Phthalates (commonly used in synthetic fragrances and may disrupt hormones)
Known sensitizers (ingredients that can cause irritation)
Apricot kernels, or seed/shell powders (naturally made particles found in facial scrubs that can scratch and irritate the skin causing bacteria to spread)
Plastic exfoliating beads (commonly used in facial scrubs and are showing to affect marine life in the Great Lakes by slipping through water treatments)
Beautiful skin begins with Renée Rouleau. Welcome.
Take our Skin Type Quiz.
Shop online > 
Purchase a gift certificate >