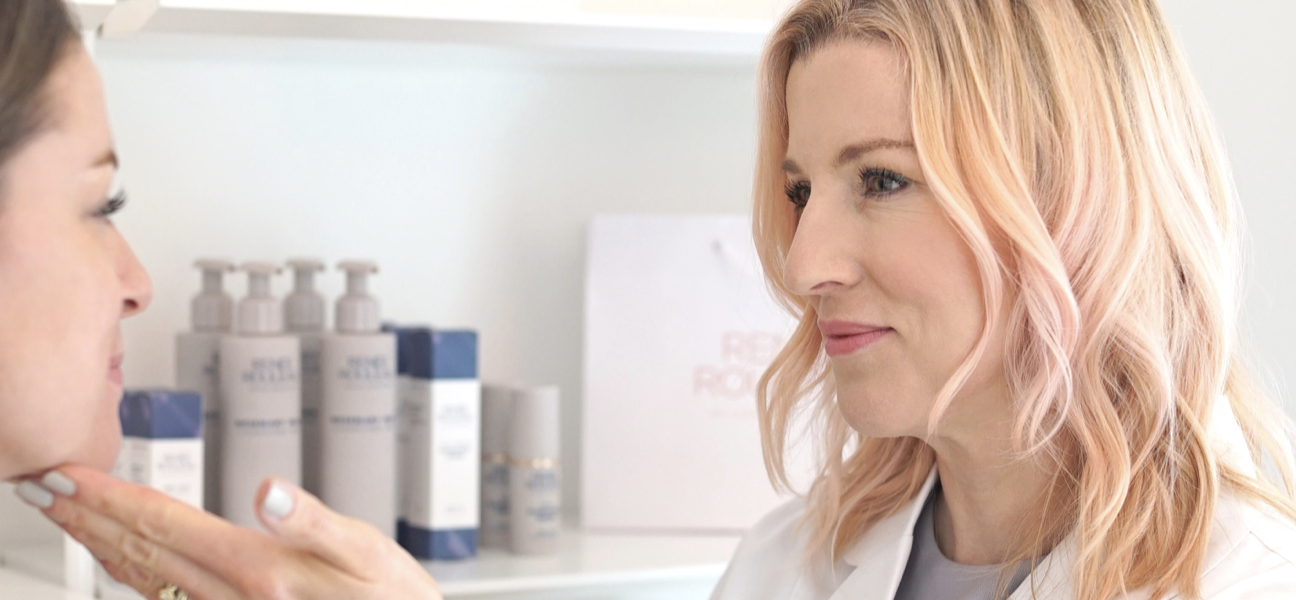 Austin, TX
A Renée Rouleau esthetician is available to offer a 30-minute personalized consultation to help you find the perfect skincare routine. By appointment only.
ADDRESS

Renée Rouleau, Inc. (Our corporate office)
9701 Dessau Road, Ste. 205, Austin, TX 78754  

WHERE TO BUY

All product purchases can be made during your private appointment. (Note: This is not a retail location open to walk-ins. Our products are only available online.)
Services
While we are not a spa and don't offer facial treatments, we do offer 30-minute consultations with a licensed esthetician. During your appointment, you will receive personalized skincare advice and a customized skincare routine that addresses the unique needs of your skin. By appointment only.
A MY SKIN PRESCRIPTION CONSULTATION INCLUDES

What are your top concerns?
My Skin Prescription begins with a Q&A discussion of your specific goals and concerns. Through a series of comprehensive questions, responses given provide insight into individual skin types, needs, and deficiencies. 
What do we see in your skin?
During your consultation, we will do a thorough analysis of your skin to examine past sun exposure, pore size, sebum quantity, moisture content, and cellular buildup to understand the overall health and condition of your skin.
What's your skin type? 
At the conclusion of your appointment, we will confirm your skin type and provide a future treatment plan with product suggestions to address your skin issues, concern, and goals. We are available via email if you have any additional questions. Get ready to reveal healthy, glowing and beautiful skin for a lifetime. 
SCHEDULE AN APPOINTMENT

My Skin Prescription with an esthetician, FREE with $100 purchase
Get personalized skin coaching from an esthetician with My Skin Prescription. Featured in The New York Times
Cost: FREE consultation when you purchase $100 in skin care products at the time of your appointment.
Time: 30 mins. 
Location: Renée Rouleau corporate headquarters. 9701 Dessau Road, Ste. 205, Austin, TX 78754
Schedule now: Call us toll-free from US and Canada at 1-888-211-7560 ext. 1. We are available to take your calls during business hours M-F 9-5 CST.
Cancellations
In the event you must cancel your appointment, we do request a 24-hour notice in order to avoid cancelation fees. We will always do our best to avoid charging for cancellations, but please keep in mind our service providers are by appointment only. Appointments canceled with less than 24 hours notice will be billed the full amount, unless we are able to fill the time slot.
No-Shows
A no-show fee of $100 will be applied to all non-specified appointments that are not canceled and unfulfilled. Specified appointments will be charged the full amount.
Renée Rouleau Skin Care reserves the right to refuse services at our discretion.
Ready to get started?
Call us toll-free from US and Canada at 1-888-211-7560 ext. 1 during our business hours 9-5 M-F CST, to schedule an appointment.
---
Not located in the Austin area? My Skin Prescription consultations are also available virtually via Skype™, Apple FaceTime®, or over the phone. Read about our virtual consultations.