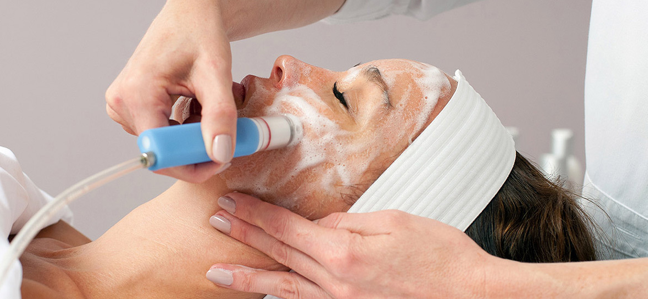 Skin Care Spa & Pop-Ups
Renée Rouleau Skin Care provides personalized consultations and non-invasive, high-tech facial treatments customized for each individual's skin type along with real-world solutions to achieve healthy-looking and glowing skin. Welcome to the famous #ReneeRouleauGLOW. 
"One of the best facials in the country can be found at Renée Rouleau."

- INSTYLE MAGAZINE
With pop-up locations in Austin, New York and Los Angeles and the original Plano, Texas location—Renée and her team of estheticians have developed a loyal following of celebrities who trust their proven results to keep their skin looking its best.
Our Process
What are your top skin concerns? Each facial treatment for first-time clients begins with a Q&A discussion of your specific goals and concerns. Through a series of comprehensive questions, responses given provide insight into individual skin type needs and deficiencies.
What do we see in your skin? An analysis of your skin before and after makeup removal, with the use of a magnified light, allows for a thorough examination to precisely evaluate what is going on above and beneath the surface of the skin.
What facial treatment is best for your skin? Your esthetician will make a recommendation for a professional facial or treatment based on the unique needs of your skin (taking into consideration your personal desires and budget).
What's your skin type? At the conclusion of your service, your esthetician will choose your skin type, provide a future treatment plan addressing your skin issues, concerns and goals, along with at-home product suggestions from the Renée Rouleau line to reveal healthy, glowing and beautiful skin for a lifetime. See our nine skin types.
What's your skincare IQ? Your esthetician will suggest recommended reading through our online educational resource so you can learn how to achieve your personal skin care goals long after the treatment is over.
Ready to get started?
For first-time visitors, please fill out this form and bring it along with you to your appointment.
Not located in the Austin, Dallas, New York or Los Angeles area? Schedule a virtual consultation with one of our expert estheticians via Skype™, FaceTime®, phone or video.
L'Institut de Beauté
L'Institut de Beauté is a unique and dedicated environment at Renée Rouleau Skin Care Spa in Plano, Texas where the main priority is continued skin care education.

Designed to train and continually educate Renée Rouleau estheticians and consumers on healthy skin care, L'Institut de Beauté is a living resource for all topics related to skin. Dozens of topics are covered including skin concerns, lifestyle, diet, seasonal conditions and more. All Renée Rouleau estheticians go through an Institut de Beauté training course and receive certification once the program is successfully completed.