Triple Berry Smoothing Peel
Find Your Skin Type
Our best-selling peel is back with an updated formula! Triple Berry Smoothing Peel is the best chemical peel to use at home for enlarged pores, dark spots, dull skin, breakouts, and clogged pores.
"Triple Berry Smoothing Peel is one of my very favorite masks."
"Not only can I thank this mask for bringing my skin back to life, it has also restored my faith that sometimes things are worth the hype."
Description
Triple Berry Smoothing Peel by Renée Rouleau is a professional-strength, at-home chemical peel. With consistent use, this peel improves dullness, uneven texture, breakouts, enlarged pores, and discoloration. Over time, you'll reveal more radiant, younger-looking skin! This peel contains a powerful blend of brightening antioxidant-rich berries. It exfoliates using a blend of six skin-smoothing AHAs, one hydrating PHA, and an azelaic acid derivative to fade hyperpigmentation.
Size: 1.7 fl oz
Other Uses
Dry, sun-damaged hands - reveals smoother skin with less visible brown spots
Sun-damaged chest - removes dryness and lifts discoloration
Keratosis Pilaris - flattens bumps and gives a smoother appearance
Formulated WITHOUT
Parabens
Phthalates
Synthetic Dyes
Gluten
Vegan. Never tested on animals.
Feel / Smell / Look
Our Triple Berry Smoothing Peel famously looks, feels, and smells like raspberry jam! We use real berries, so it's normal to notice berry seeds or slight variations in color from batch to batch.
Ingredients
Key Ingredients
Glycolic, Lactic, Malic, Mandelic, Phytic, and Tartaric Acids — AHAs that exfoliate, smooth the skin, and combat breakouts and clogged pores
Gluconolactone — A PHA that gently exfoliates while hydrating
Potassium Azeloyl Diglycinate — A derivative of azelaic acid that addresses uneven skin tone, hyperpigmentation, and post-breakouts marks
Blueberry, Raspberry, and Strawberry Extracts — A great source of brightening antioxidants
Citrus Aurantium Dulcis (Orange Zest) Fruit Extract, Rubus Idaeus (Raspberry) Fruit, Water, Glycerin, Propanediol, Citric Acid, Fragaria Vesca (Strawberry) Fruit, Vaccinium Corymbosum (Blueberry) Fruit, Caprylic/Capric Triglyceride, Rubus Fruticosus (Blackberry) Fruit, Polysorbate 20, Sclerotium Gum, Potassium Azeloyl Diglycinate, Bisabolol, Lactobacillus/Punica Granatum Fruit Ferment Extract, Lonicera Japonica (Honeysuckle) Flower Extract, Sodium Polyacrylate Starch, 1,2-Hexanediol, Xanthan Gum, Glycolic Acid, Lactic Acid, Caprylyl Glycol, Butylene Glycol, Gluconolactone, Lonicera Caprifolium (Honeysuckle) Flower Extract, Malic Acid, Tartaric Acid, Mandelic Acid, Allantoin, Sodium Gluconate, Acrylamide/Sodium Acryloyldimethyltaurate Copolymer, Phytic Acid, Fragrance (Parfum), Isohexadecane, Glyceryl Polyacrylate, Eclipta Prostrata Extract, Polysorbate 80, Citrus Sinensis (Orange) Fruit Extract, Citrus Nobilis (Red Mandarin Orange) Oil, Prunus Serotina (Wild Cherry) Bark Extract, Vaccinium Angustifolium (Blueberry) Fruit Extract, Melia Azadirachta (Neem) Leaf Extract, Tropolone, Dimethylmethoxy Chromanol, Moringa Oleifera Seed Extract, Citrus Paradisi (Pink Grapefruit) Peel Oil, Mirabilis Jalapa Flower/Leaf/Stem Extract, Sodium Hydroxide. To learn more about choosing a product based on its ingredients, read this post.
How To Use
Apply a thin, even layer to the entire face after cleansing. Leave on for 5-10 minutes, starting at the lower end if you have sensitive skin. Once finished, rinse well with cool water. Follow with a treatment product, such as a toner, serum, mask, or moisturizer, for your skin type. Use this peel once a week or as needed.
This peel is perfect to prep for a big event! We recommend using it two nights ahead of your event for smooth, glowing skin.
FAQs
What is the pH level of this product?
The pH level of Triple Berry Smoothing Peel is 4.0
Can I use this product if I'm pregnant?
Yes! We removed salicylic acid from the peel, and there are no other ingredients deemed unsafe for pregnancy.
If salicylic acid was removed, is this peel still good for preventing breakouts?
Yes, it's still helpful for combatting breakouts. One of the main causes of breakouts is dead skin cells falling into pores and causing blockages. The new combination of acids in this peel does a great job of removing these dead skin cells so they can't cause problems in the first place.
If clogged pores and breakouts are your primary concern, we also suggest using one of our exfoliating acid serums with salicylic acid (the BHA Clarifying Serum or the Pore + Wrinkle Perfecting Serum). Since Triple Berry Smoothing Peel is generally meant to be used once a week, the exfoliating acid serum can be used on your other exfoliation nights
How do I incorporate this peel into my routine?
We always recommend patch testing a new product before using it all over. To test this product, apply a small amount to a patch of clean skin on the lower part of the jaw. Leave it on for 5-10 minutes, and watch for signs of irritation.
While this product has been clinically tested and shown to be non-irritating, everyone's skin is unique. If you do experience signs of irritation such as redness, burning, or stinging, please discontinue the use of this product and reach out to us.
Note: since this is an updated formula, we recommend patch testing even if you used the old formula.
When you do your first full application of the peel, you can also experiment with how long to leave it on. We suggest a minimum of 5 minutes and a maximum of 10. If you typically have sensitive skin, you can start by leaving it on for a shorter period of time and then increasing that time as desired. Listen to your skin, and do what feels best for you!
How much of the peel should I apply?
Apply a thin, even layer on clean skin.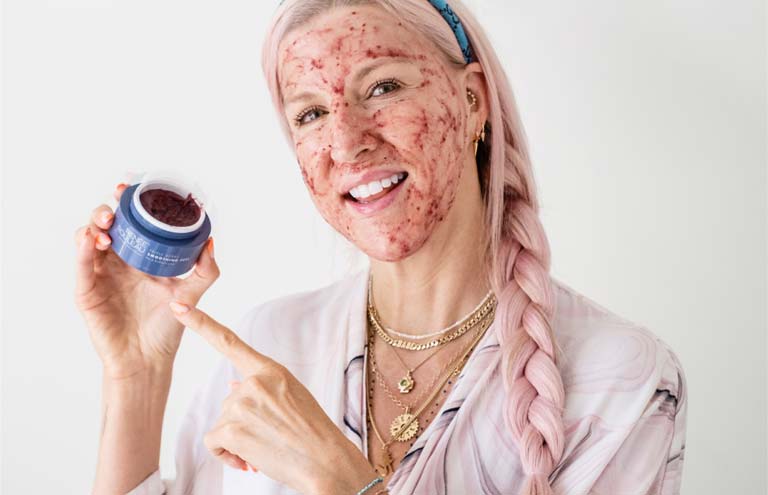 I'm noticing more or less tingling than with the previous formula, is this normal?
Yes, since this formula has been updated and is different from the previous one, your experience with it may differ. The amount of tingling you experience can also vary depending on the state of your skin. A slight tingling sensation is considered normal when using products with exfoliating acids.
Will this product really make my skin peel?
No. While this product won't actually make your skin "peel," you may notice some flakiness up to a day after using it. This is because the peel loosens dead cells from the surface of your skin, so you're seeing them come off. The more consistently you use this peel, the less this flakiness should occur. To minimize flakiness and physically lift away these loosened cells, we recommend using a physical scrub like Triple Berry Smoothing Scrub as a companion to this peel.
What are the benefits of using both the Triple Berry Peel and Scrub?
While acids and scrubs both exfoliate the skin, they use different mechanisms. Acids lower the skin's pH to dissolve the keratin or "glue" keeping dry, dead cells stuck to the skin's surface. Physical scrubs, on the other hand, physically lift those loosened cells away by buffing them off.
By using both chemical and physical exfoliation in your routine, you'll get a more "complete" exfoliation. This 2-step exfoliation method is especially helpful for fading the look of pigmentation for a brighter, more even skin tone.
Why is the color of my peel different than it was last time I ordered it?
Since three of the main ingredients in the Triple Berry Smoothing Peel are real fruits, there can be some natural variance in color. Each season the fruit crop will come out a little differently, which can influence the final appearance of this product. It is still the same formula, just a fresh batch!
Where can I buy this product?
Our products are sold exclusively at ReneeRouleau.com.
Is this product tested on animals?
No.
Where are your products made?
Our products are manufactured in the U.S. and Canada.
I took your Skin Type Quiz and was wondering if I can use products that weren't specified for my skin type?
Yes. While the skin type product recommendations are carefully selected for the needs of a specific type of skin to give the best results, many people will modify their routine with other products as needed.
I have questions about my skin, where can I get help?
Email us and we would be happy to provide expert advice!
Reviews
Total 5 star reviews: 33
Total 4 star reviews: 1
Total 3 star reviews: 2
Total 2 star reviews: 0
Total 1 star reviews: 0
94%
would recommend this product
Verified Buyer

My Skin is

Aging,

Dry,

Clogged Pores

4 days ago

My Skin is

Aging,

Dry,

Clogged Pores

Works Great

Love what it does for my skin. Very nice.

Verified Buyer

Renée Rouleau Skin Type

2

My Skin is

Sensitive,

Tired,

Aging,

Irritated

2 weeks ago

Renée Rouleau Skin Type

2

My Skin is

Sensitive,

Tired,

Aging,

Irritated

Works like a charm

This product does exactly as it says it will do. I use it every other week a d it leaves smooth and soft skin. I am a skin type 2.

Best mask

It gently removes the dulling skin without any irritation. My skin looks wonderful after using it. I love the berry smell,

Verified Buyer

My Skin is

Dry,

Clogged Pores,

Tired,

Dull,

Aging

1 month ago

My Skin is

Dry,

Clogged Pores,

Tired,

Dull,

Aging

Verified Buyer

Renée Rouleau Skin Type

4

My Skin is

Aging,

Oily,

Dry

2 months ago

Renée Rouleau Skin Type

4

My Skin is

Aging,

Oily,

Dry

Berry Parts of Product Make for Unsmooth Application

I love what this product does and my complexion looks great afterwards; however, because of the berry chunks (I assume it is berry) the application does not go on smooth and it requires more product to get evenly across the face. It is an expensive product too, which makes this a tad bit disappointing. Great results but I feel that you do not quite get what you pay for.

Renée Rouleau Skin Care

2 months ago

Hi! Thank you for taking the time to share your feedback! Since this formula contains real fruit, it adds texture to the consistency, making it difficult to achieve a completely smooth application. However, we'd like to emphasize that this does not compromise the product's efficacy! The main active ingredients are thoroughly blended into the base formula, ensuring you receive all the incredible benefits of this mask, even with just a thin layer.
A Customer Care team member has reached out via email with further application tips! Please do not hesitate to reply with any additional questions or concerns. 💙
Reviews Loaded
Reviews Added
Questions